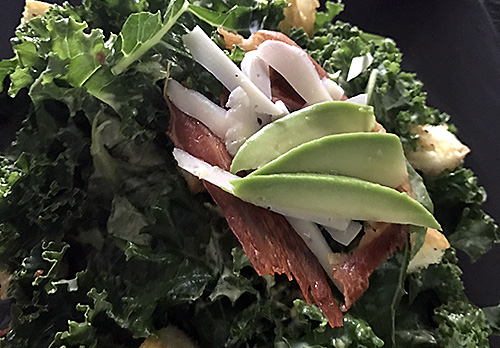 Avocado and Kale Caesar Salad
Ingredients:
1/2 Cup of Avocado Oil or Light Tasting Olive Oil
1/2 Lemon (juiced)
1 Tsp. of Red Wine Vinegar
1 Tsp. of Dijon Mustard
1 Tsp. of Anchovy Paste
1 Clove of Garlic (crushed)
1/2 Avocado (seeded, peeled, and diced)
1 Coddled Egg (crack egg into small dish, prick yolk, microwave for 15 seconds)
Sea salt and Fresh Ground pepper to Taste
Assembly:
Place all above ingredients in blender. Blend until smooth and creamy. Taste and adjust seasoning. Dressing does not require much salt since anchovy paste is salty.


Toss with prepared greens, grated fresh parmesan cheese, and homemade croutons (Cut, good quality bread into cubes, toss to coat lightly in olive oil, season with sea salt and fresh ground pepper. Place on baking sheet and bake in 350 degree oven for approximately 10 minutes until golden and crispy but still slightly chewy.)


*Add prawns, poached chicken breast, or frizzled prosciutto to make a more substantial salad. Add sliced red onion, sliced fennel, diced avocado, cherry tomatoes, roasted corn or whatever vegetable that you have on hand that will complement and enhance the flavour.


Blue Heron Promotions Inc. © 2017. All rights reserved. Mobius Designs
Designed by: